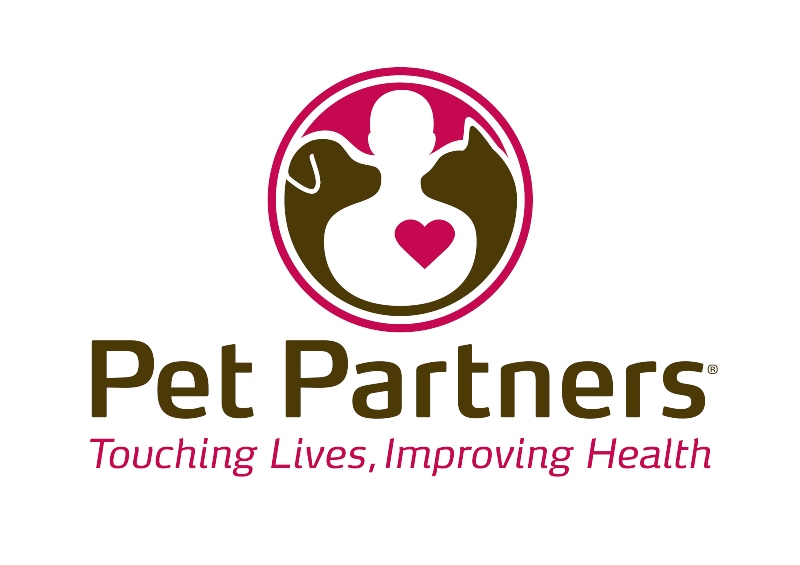 By : Verileet Staff
We Are All Ears: How Reading to Pets at Home Can Improve Youth Literacy
Even as we look forward to turning the page on the COVID-19 chapter in history, we recognize there have been some new opportunities in supporting education to come out of this disruption of our daily lives. Pet Partners, the nation's leading organization registering therapy animals for animal-assisted interventions, along with one of the world's leading animal health companies, Elanco, know that at-home education and learning progress have been major issues for parents and students during the pandemic. We Are All Ears, a Worldwide Read with Pets Project, encourages children to read to their pets at home to improve youth literacy and strengthen the human-animal bond.
According to the United Nations Educational, Scientific and Cultural Organization (UNESCO), of the world's 1.5 billion pre-primary to secondary students, only one in three are attending school in classrooms this fall. But they can have new classmates at home: pets!
Reading at home to pets not only promotes higher end-of-year reading scores, but also improves reading rates, accuracy, fluency, and comprehension. Children are also better able to stay on task when a furry, feathered, or scaled companion is involved.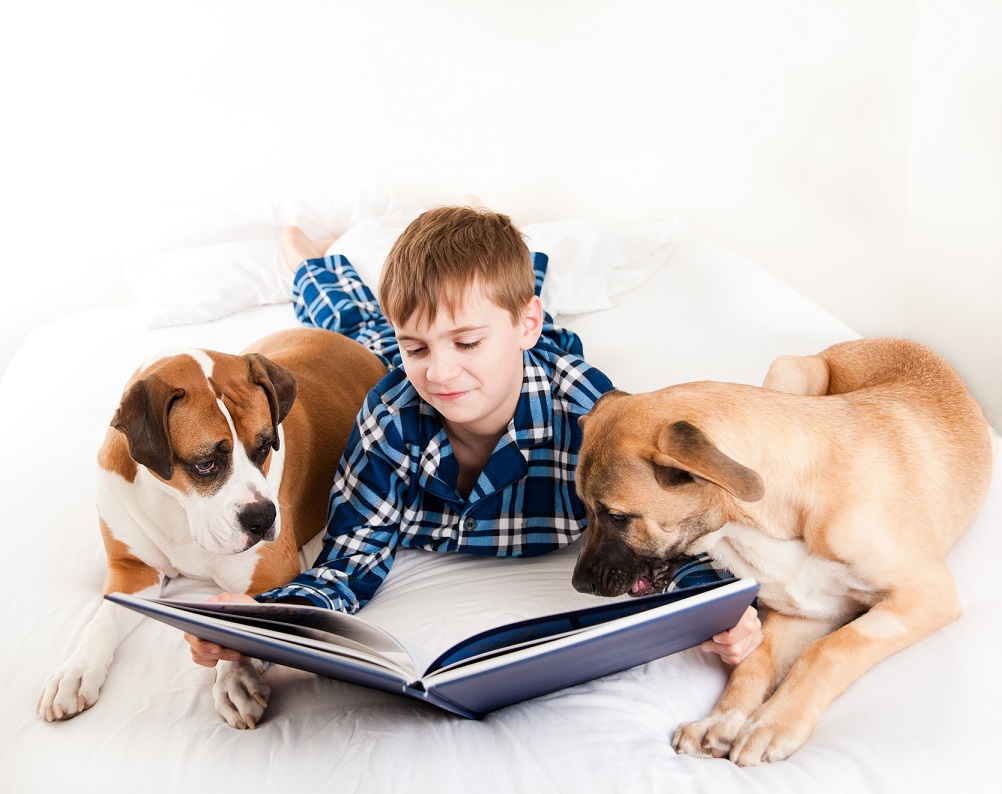 "Reading to pets is an amazing way to get children excited about reading and engaged with the content," says C. Annie Peters, President & CEO of Pet Partners. "Children who are learning to read are often hesitant about their reading abilities. Many kids feel more at ease reading to pets, who are simply there to listen – not to judge how well they are reading."
As many communities experience educational disruptions, leading parents to educate their children at home, families have had to find innovative ways to support educational activities. We Are All Ears is designed to bring the power of the human-animal bond to youth literacy in home settings—creating a lifelong connection and a sense of confidence with reading.
Under normal circumstances, Pet Partners therapy animal teams visit local schools and libraries regularly, helping student ease reading anxiety by being a part of reading activities, through the Read With Me™ initiative. We Are All Ears is an extension of Read With Me that brings the benefits of reading to pets into the home. With many Pet Partners volunteer therapy animal teams unable to make their regular visits due to COVID-19 restrictions, the organization is leading this already-proven animal-assisted activity, so that children and families everywhere can benefit from the power of pets in support of literacy.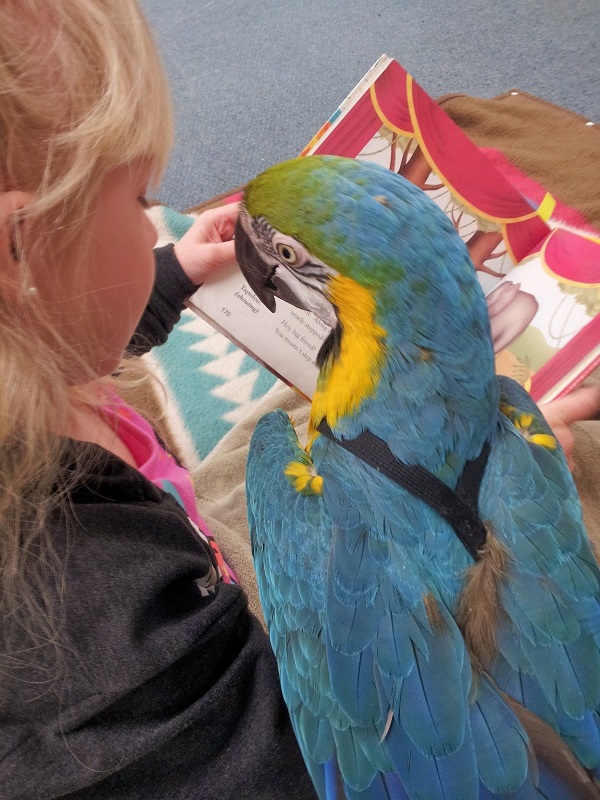 Pet Partners registers nine species of animals for therapy animal work, but any pet can make a great reading buddy, as demonstrated by 7-year-old Hudson in Nevada, who likes to read to his pet frog.
This initiative has gained traction with families around the world, not only helping children build stronger bonds with their beloved companion animals, but also boosting their self-confidence and improving their learning experience.
Pet Partners and their registered therapy animal teams have some tips for people reading at home to their pets. Not all pets listen the same way. If sitting quietly isn't your pet's strong suit, there are some options that can help. Setting up a designated spot for reading activities is helpful, and you can incorporate toys so pets can stay engaged while they listen.
If your child's books include pictures, they can show the pictures to their pet along with some reassuring words to keep the pet engaged and help them stay put. Encourage children to pause and pet their animal during the reading session to keep the pet calm and settled. And offer treats for the pet at the end, to reward them for good listening behavior!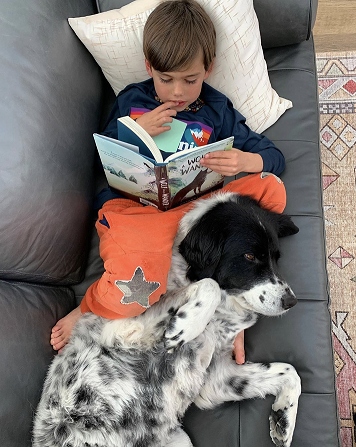 Reading aloud can be an anxious experience for many children. A pet can bolster their feeling of safety when reading in their own home, promoting positive learning growth in the classroom. Families can work with their children to identify ideal times to read to the pet; for example, when pets are relaxing after a play session or a meal, invite kids to grab their favorite book and try reading aloud to the pets. This can help children with reading frequency and consistency as well. You never know what amazing things can grow from the human-animal bond.
Pets play a tremendously important role in our lives, and the data on how they positively affect both our mental and physical well-being is growing, especially now. According to the American Pet Products Association's COVID-19 Pulse Study, 71% of pet owners continue to spend time with their pets while social distancing from others, and are finding that spending time with their pet is helping to reduce their stress levels and increase their sense of well-being during the pandemic. Our kids can certainly benefit from this effect as well, including improving their reading skills with the help of their pets.
To learn more about We Are All Ears and how you can get involved, visit petpartners.org/allears/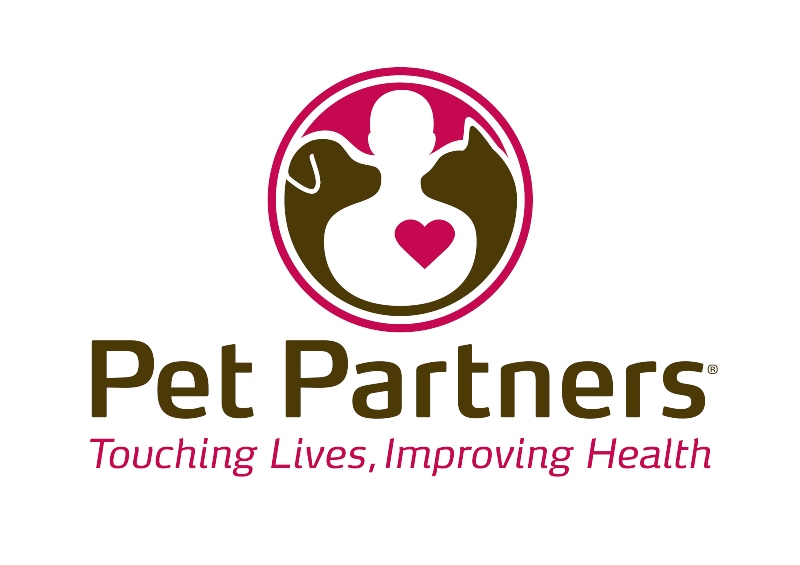 Photos courtesy of Pet Partners
XOXO