What began as a joke eventually turned into something much more as people on Instagram wanted to find out "What's Elle Eating."
Minnesota may not be at the forefront of your mind as a land of interesting culinary creations. Still, Instagram food blogger Elle Yorobe is on a journey to prove that idea wrong. Her page "whats.elle.eating" explores cuisine throughout the Twin Cities, and many of her food items are cause for inspiration.
"My food Instagram started kind of as a joke when I started this thing called '52 French Frydays,'" says Yorobe. "I would go to a different restaurant every Friday for a whole year and try French fries and post them."
Slowly, she says, her page transitioned from only French fries into different foods she was trying locally and worldwide. And after nearly four years, people have begun to latch onto her journey.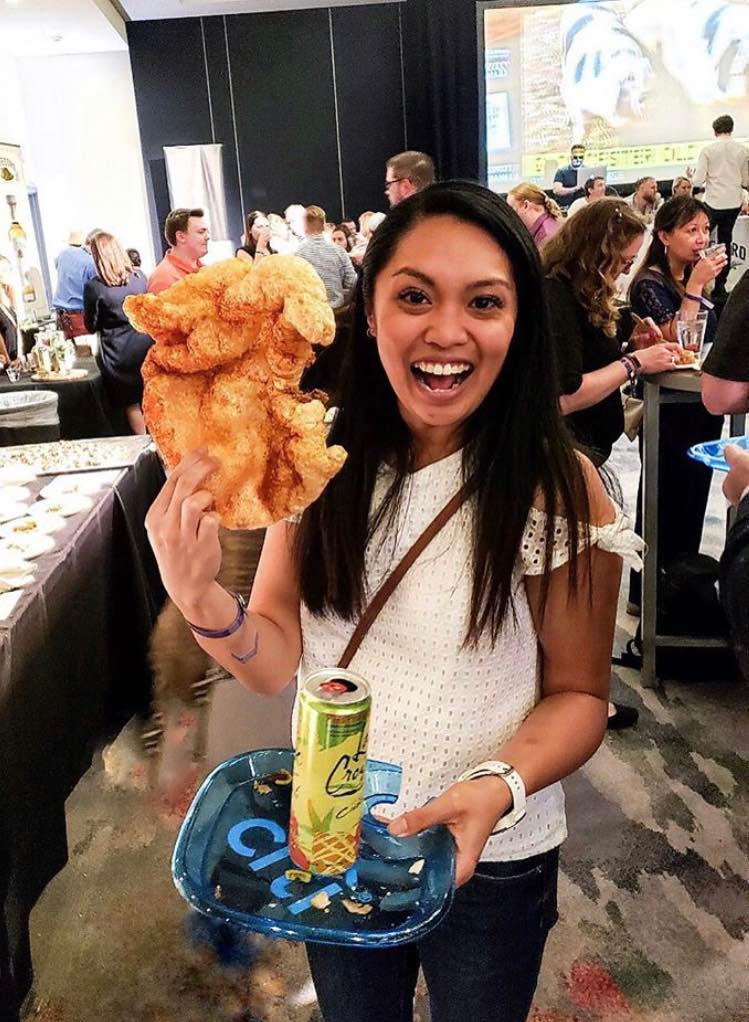 Born in Canada, Yorobe moved to Minnesota when she was 12 years old, where she has lived for the last 18 years. And during that time, she has explored the various restaurants our state has to offer.
On the surface, it sounds like many of the meals are ones I'm familiar with – ice cream, pizza, burgers, etc. – but most of them have a unique twist of creative flavors that arouse your adventurous side.
Some of her more recent experiences include a gyro bowl fromChickpea Hummus Bar, salmon tartine and a crêpe cake fromBellecour Bakery, and walleye benedict with loaded tots fromFirst Draft Taproom & Kitchen.
Most of my focus is on the Twin Cities.
Yorobe also includes food items some of us may never have the opportunity to try – such as eating alligator in Chicago – so we can vicariously live through her adventurous spirit.
"Most of my focus is on the Twin Cities, but I love to post pictures from other places in Minnesota when I get a chance to get out of town," she says.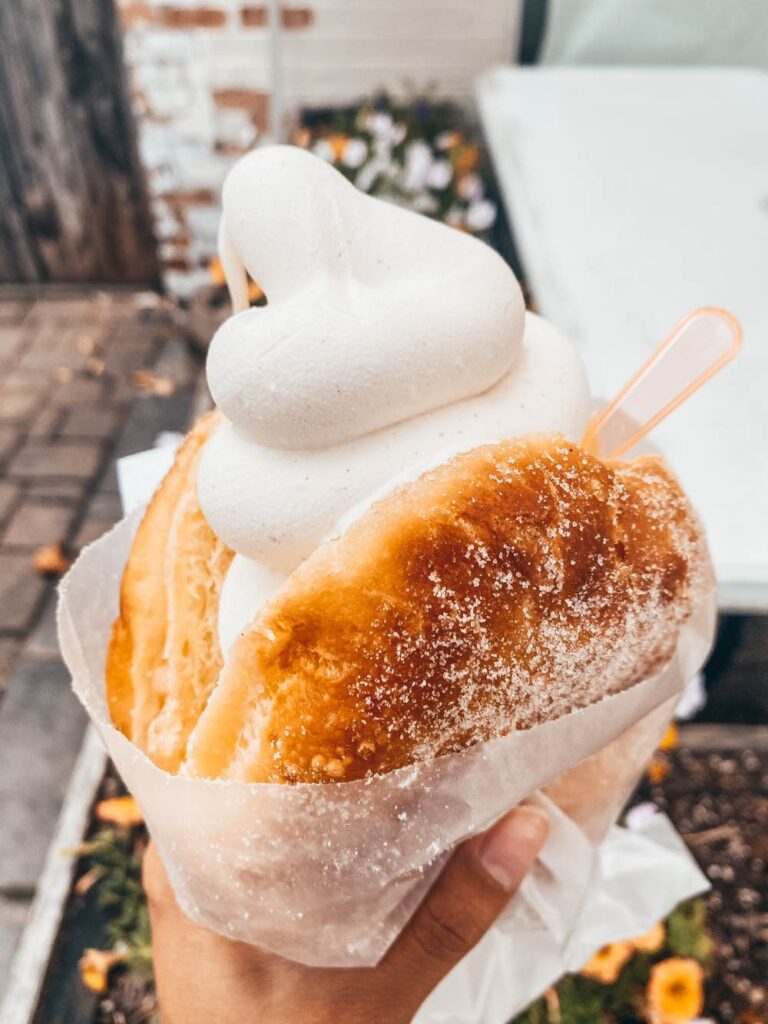 While she has some favorite restaurants that make it into her normal circuit of meals, she has an ongoing list of places she wants to check out. Some of her ideas come from word-of-mouth and recommendations, others from places reaching out, and some motivated by other foodies.
"I'm definitely willing to try all food groups outside of domestic animals," she says. "I try to stay away from foods that are lacking in color, but I also want to make sure that I'm not only looking for food that is 'pretty' and doesn't taste good. I love the crazy kinds of foods that photograph well, but I also love to take pictures of food like pizza and fries."
One of her more recent posts on a meal fromHola Arepahad me wanting to follow her lead, and scrolling through the feed filled with vibrant images so enticing I could nearly taste the food had my mouth watering.
"I like to post about food because it's fun, and I like to document where I am for future reference," Yorobe says. "It has been fun to post about a restaurant to help other people decide where to eat or try. I also like being able to help spotlight restaurants that people might not have tried had they not seen it on social media."
Yorobe also enjoys hearing from people who have enjoyed trying a restaurant or food item posted on her Instagram page.
I love the crazy kinds of foods.
The current pandemic has undoubtedly put a damper on some of her culinary expeditions. Before COVID-19 hit, Yorobe says she was going out about three-to-four times a week. That slowed down immensely, though now she visits restaurants twice a week. Unfortunately, many wonderful places she enjoyed frequenting have since temporarily or permanently closed, including Burch Steak, The Bachelor Farmer Café, Izzy's Ice Cream, and HopCat.
Growing up in a Filipino household, Yorobe says food was always at the heart of her family gatherings. This sparked a passion for food, and travel increased her desire to try unique cuisine.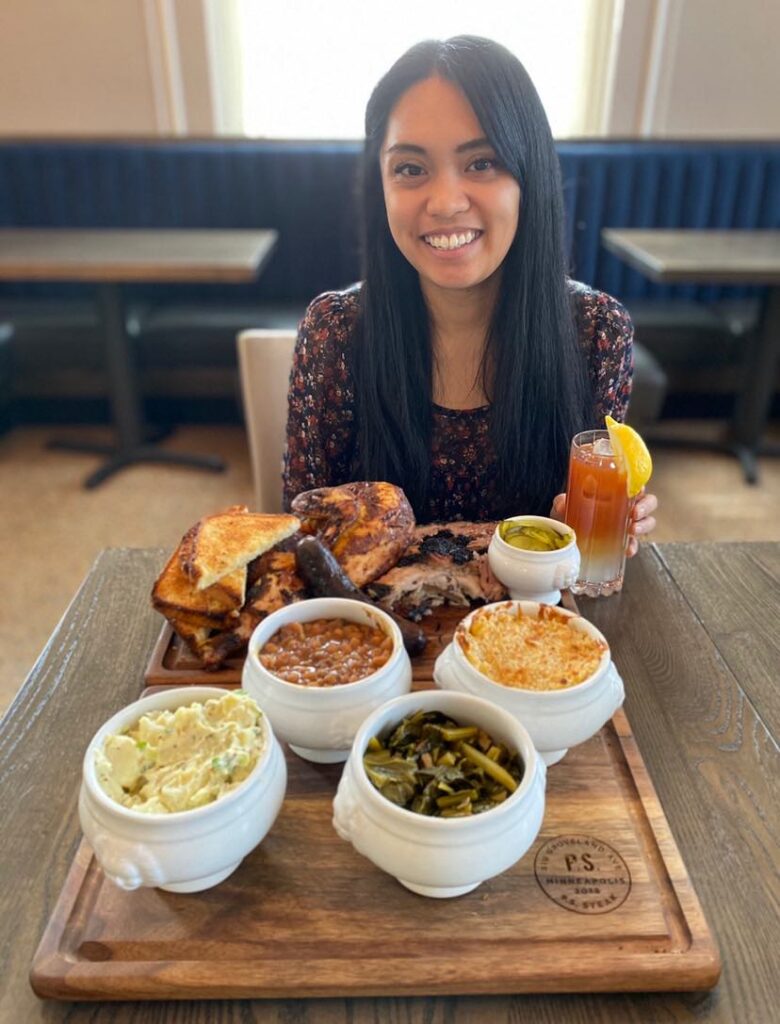 "I try to be as adventurous as possible, and, especially when traveling, I love eating local food," she says. "I don't think I'm alone when I say I love food and love that it brings people together."
Her page is certainly adventurous, but even the most cautious of food-lovers will find something new on her Instagram to enjoy. And on that note, I think it's time to take a leaf out of her book (or menu) and check out some of the delectable options Minnesota has to offer.
XOXO

Art
culture
History