Mind Over Midwest blogger Shayla Hurt is proud of her strong Midwest roots. Raised in North Dakota, she lives in Fargo with her husband, son, and dog, Ace. And she wants you to know the Midwest is certainly not flyover country. Read on to learn more about this Midwest fashionista and score some excellent deals and her favorite coffee gem in the Twin Cities.
By Sara Schlueter
Balancing a career in healthcare, a one-year-old, and running a successful blog, Shayla Hurt certainly stays up to speed. "There is never a dull moment in our household!" Hurt started her blog, Mind Over Midwest, back in 2018 to originally focus on where she was scoring great deals.
"Both my older sisters and my mom are very into fashion. I would constantly get asked all the time, 'where did you get this?' I would get excited about finding a good deal, so I thought I am just going to go for a blog and share," said Shayla. "I feel like anyone wants to find a good high-quality deal, whether it is house items, clothing, or shoes."
Shayla didn't ever think her blog would take off the way it did. "The blog was a great way for me to get back into writing. I never imagined it would go to where it is at. I thought no one will read this. But to my surprise, it has turned into way more," said Shayla. "Now, it is even more fun to share my journey through life, being a mom, and working."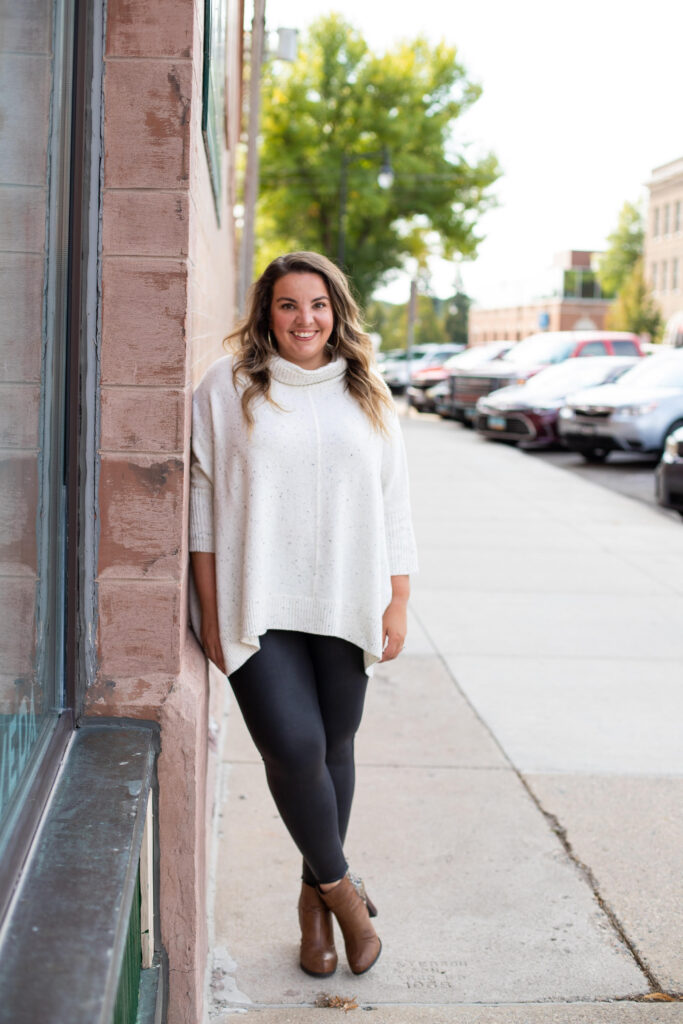 In crafting a name for the blog, Shayla wanted to stay true to where she is from—and to stand out. "I wanted to incorporate a name that geared towards the roots of where I am from. Being from the Midwest, I am very prideful of being from here. We love to travel, and whenever we meet people, they are very intrigued to know we are from North Dakota and Minnesota," said Shayla. "And the people from this type of area are just so kind, and there is just so much to share from the Midwest."
A Fashion for Every Season
The Midwest is full of beauty, charm, excitement in unexpected places, and a fashion sense that differentiates itself from those on the coasts. One of the big reasons for this is, of course, the weather. "I think there are so many great things about the Midwest. One of the biggest draws is that there is so much beauty everywhere you go. We get to experience all of the seasons. Because we transition to every season, the fashion has to go with it. I think that is where fashion steps out much differently in the Midwest," said Shayla. "We have to get creative based on our seasons, and then implement that into our lives. I think that is the cool thing about being here. Fashion comes full force in all different aspects here."
And Shayla is certainly loving fall and winter trends this year. "This year is back to animal print. Animal print really emerged last year and is now trending into this fall and beyond," said Shayla. "For me, I really like animal print booties, cardigans, and belts. Just simple things that you can consider accent pieces." To perfectly complement the fall colors unique to the Midwest, burnt orange and mustard are on-trend colors. "I love seeing these colors again. It just really goes along with the seasons."
Shayla also notes there is a lot of versatility with these current patterns and colors. "You don't have to have a ton of things to create a great capsule wardrobe with these kinds of pieces. These pieces can easily be transitioned into winter. For example, if you buy a leopard print jacket or cardigan, those pieces can go through all of the seasons with you. From throwing that cardigan or jacket over a sundress during the evening to wearing it with jeans and a t-shirt and a fun pump. So many options for the different trends right now."
Where to Score That Deal
Finding that killer deal is Shayla's specialty, and she does have some favorites right now. Although her "go-to" will always be T.J. Maxx. "Lately, I've been finding great things at the Loft. They have a lot of great business casual options, and they always have a sale going on. Another one is American Eagle. It seems as though it is only meant for that teen range, but it really isn't. They have so many sales all the time. And Nordstrom is a great one; I always find a sale. Right now, there are lots of great deals, especially during COVID. So many stores are trying to get people to shop, so that is a big advantage right now to shop if you can."
Of course, shopping locally has its perks. "One of my favorite boutiques is based in Fargo, Leela, and Lavender. It is comparable to Evereve's style. One from Bemidji I love is called the Yellow Umbrella. Right now, they are carrying lots of name brands that are very on-trend," said Shayla. Also noteworthy is that women own both boutiques. "I really love this; I am all for women supporting women!"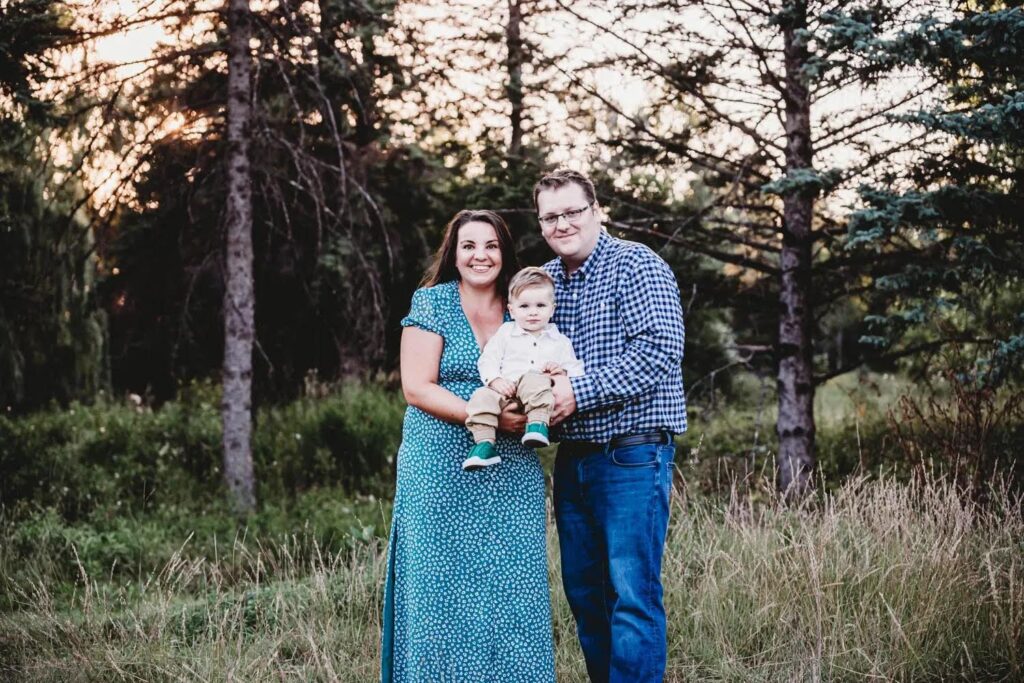 Not Flyover Country
On Shayla's blog and on her Instagram, another highlight is traveling. "My husband and I love traveling; it is one of our big passions. Minnesota is beautiful and has so much to offer. Everywhere we go, I am just inspired and amazed by everything this state has to bring," said Shayla. Her family spends a lot of time in Bemidji, where their family lake home is at. "It is just a stunning area up there. We also really love the Duluth area. There is so much to do."
Recently this summer, she and her family visited Rapid City, South Dakota, in collaboration with Visit Rapid City. Her family experienced Custer State Park, local restaurants, breweries, and the Black Hills. "It was so awesome and such a great experience," said Shayla.
When asked where a traveler should go if they had never been to Minnesota before, Minneapolis is definitely Shayla's recommendation. "There is just so much they have to offer. You get the best of both worlds. You can experience the city and then venture out and see nature."
Though, you don't have to venture far or even get on a plane to catch new experiences.
"Travel is everywhere you go, even if you choose not to leave your state. Simply experiencing what a different city has to offer, or even a new restaurant is travel," said Shayla.
Inspiring Others
With over 12,500 followers, Mind Over Midwest is undoubtedly gaining traction. "Now that I have taken on this influencer role, I have found that my voice does matter," said Shayla. "I also have to be careful with what I choose to share or not share. You never know what someone else is going through, and I try to keep that in the back of my mind. I hope to be an outlet to help ease what it is that you may be going through," said Shayla. "The mission of my blog is to remind everyone that you don't have to be perfect to want to share things or to do fashion or want to travel. Life doesn't have to be perfect to get out and seize moments."
When it comes to partnerships or featuring specific products and brands, Shayla takes the time to evaluate. "I do get a lot of requests for partnerships, and I am flattered every time. I really choose what kind of vibe I want to put out. I take things that will reflect on my family. I'm starting to say no to companies if it doesn't fit within my blog or my family."
As for the future of her blog, only time will tell. "My main focus right now is to continue to focus on being honest, genuine, and to be completely open with my followers. I want to be transparent about my life in general; that is so important."
Shayla also takes a similar approach to fashion—in that it is an honest expression of who you are. "That is what I love about fashion; it brings out all the confidence in you. There is so much uniqueness an individual can bring out, and they share who they are as a person. Your wardrobe choices can say who you are or who you want to be."
Wherever Mind Over Midwest will end up, Shayla is committed to being that genuine voice in an often too perfect Instagram world. "I want to provide information that is relatable to my followers. If you are only putting out these perfect images and not also sharing your struggles, that is just not being authentic to yourself. I want to be authentic, and I don't want to get wrapped up in having to have this perfect Instagram photo and perfect family. That isn't reality. I am just trying to be me."
Follow along with Shayla! @mindovermidwest and mindovermidwest.com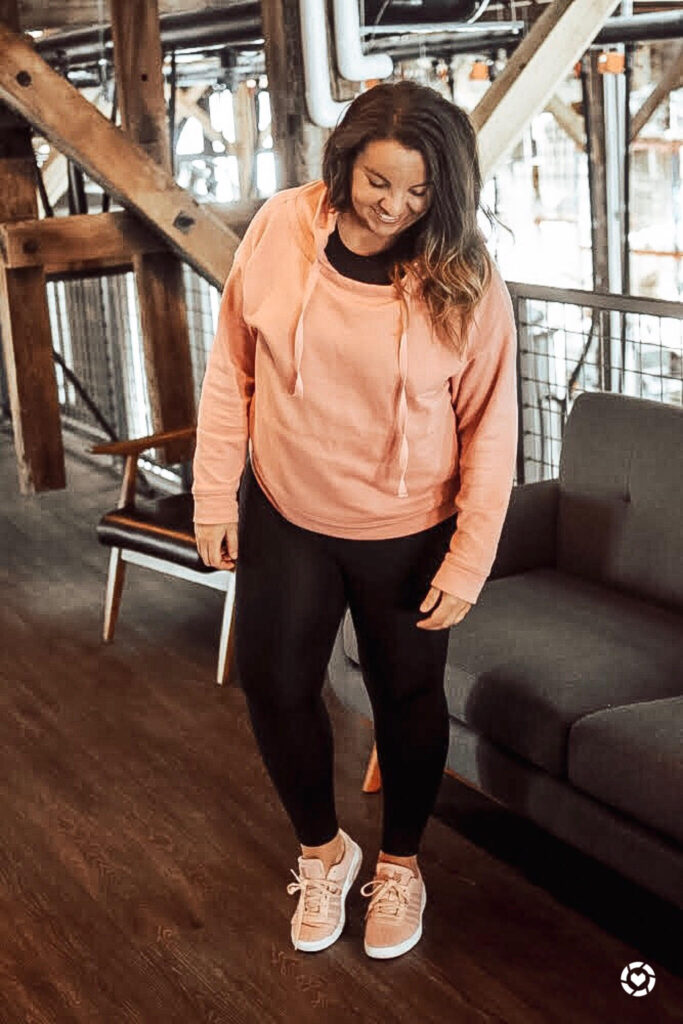 Shayla's 7 Favorite Things
1. Twin Cities Coffee Shop: Cafe Astoria
2. Find a Good Deal: American Eagle, The Loft, Nordstrom, and T.J Maxx
3. Midwest Vacation: Duluth
4. Current Podcast: Crime Junkies
5. Athleisure Wear: Lululemon, Fabletics, and Z by Zella
6. Can't Live Without in Your Closet: Black Lululemon leggings and sneakers
7. Holiday Movie: Home Alone
Read our cover story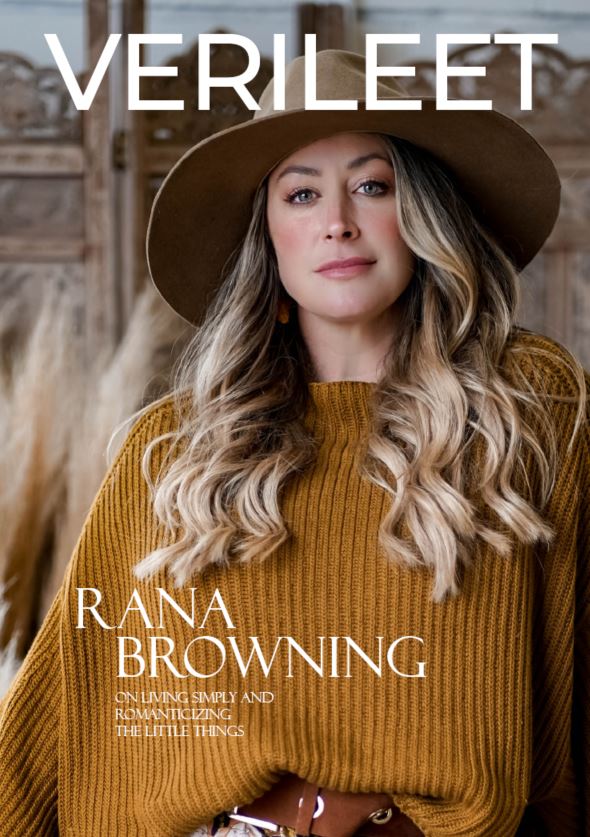 XOXO

Blogger
family
Fashion
Midwest
Minnesota
North Dakota
South Dakota
travel