Adding a little (sustainable) holiday cheer to the year that is 2020 is totally possible. Here are a couple of ideas to make your holiday sustainable and bright.
By Sara Schlueter
Homemade Cards
Instead of buying a pack of cards to send to friends and family, make your own! (Let's be honest, you have the time.) Reuse the fronts of old cards and attach them to plain notecards. Embellish with buttons, ribbons, or sparkles. Pick up some pretty patterned paper or stamps from your local craft store if you want to get fancy. Check out Pinterest for endless holiday card ideas for any skill level.
Shop Local
Yes, Amazon is convenient and quick. But also, terribly wasteful—more trucks on the road, carbon emissions, and all that packaging. Instead, support local businesses in your area. Are books on your list this year? Hit upMoon Palace Booksin Minneapolis. Coffee lover, you need to please? TryDogwood Coffee'smultiple locations throughout Minneapolis and St. Paul. Cozy sweatshirts?Sota Clothingin St. Louis Park offers Minnesota themed apparel for men, women, and kids. The Twin Cities is full of local gems, and they need the support now more than ever. Step away from the Prime button and hit up your local favorites. (Note: Lots of local places are offering curbside pick-up, shipping, and masked in-store shopping. Check websites before you go!)
Recycle Gift Wrap
According to Stanford University, Americans produce 25% extra waste during the holiday season. Most of it is wrapping paper and ribbons. Instead of spending money on expensive paper that ultimately ends up getting tossed and sits in a landfill, try using recycled wrapping paper, brown paper bags, and reusable cloth ribbons. Brown paper bags with twine and a paper gift tag make for a cozy look anyway. Paper gift bags are always preferred, and they can be reused. (Anyone else have a box of gift bags they reuse?!)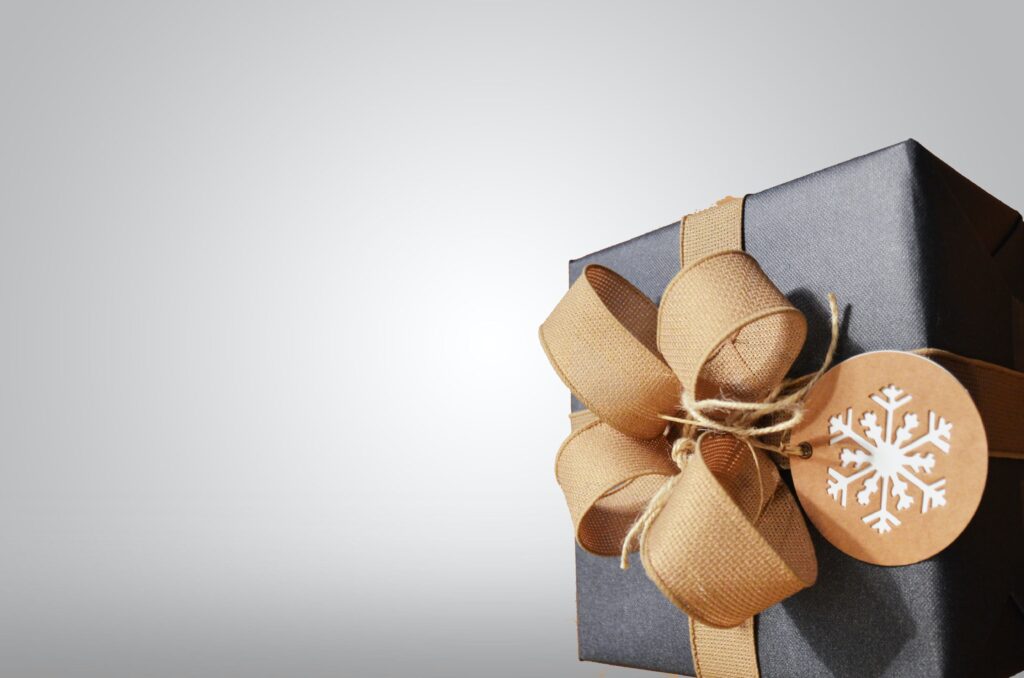 Gift Cards
Purchasing gift cards not only supports restaurants, boutiques, salons, and coffee shops during this economically challenging time, but it cuts down on waste and materials. A gift card can be sent with a (recycled!) card or sent electronically. Bonus: No gift wrapping, boxes, or extra ribbon involved.
Sustainable Materials
When you shop, look for sustainable or eco-friendly materials. For example, soy candles made with essential oils and a cotton wick are not only eco-friendly, but they are also not burning harmful chemicals. Many companies are carrying sweaters and clothing made from recycled fibers.Patagoniais making a bold pledge to move towards 100% recycled fabrics. This season nearly 70% of their fabrics are made from recycled materials. Gift olive wood bowls, cutting boards, bees wrap, or organic cotton mesh shopping bags to your friends who love to spend time in the kitchen.The Little Marketis a woman-owned organization and has tons of unique kitchen and home products all produced sustainably around the world.
Make a Donation
Amongst the collateral damage of 2020, non-profits and charities also got hit hard. Donations are down this year, but the need is greater than ever. Donate to your favorite charity or non-profit in a loved one's name. Many organizations will recognize the gift and even send your giftee a card.
These are only a handful of ways you can shop sustainably this year. There are so many easy ways to go green this holiday season while spreading all the cheer!
What are some of your favorite ways to shop sustainably during the holidays? We would love to hear in the comments below!
XOXO

Ecofriendly
holidays
Sustainable Shopping