Twin Cities artist Mary Olson shares her passion for the natural world and how it inspires her artwork.
Broad strokes of sweeping, bold colors cover massive canvases. The walls are alive with vivid imagery, evoking strong feelings from deep within.
The first time I saw one ofMary Olson's paintings, I was stunned into silence. My eyes traced the unfamiliar lines, searching for the recognizable images that coincided with the emotion that I felt from looking at the piece.
A treetop here, a wave there – it was like something out of a memory put onto canvas with a brilliance that brought to life what I could only see in a dream. I was compelled by the familiarity of a beloved place I recognized as the North Shore.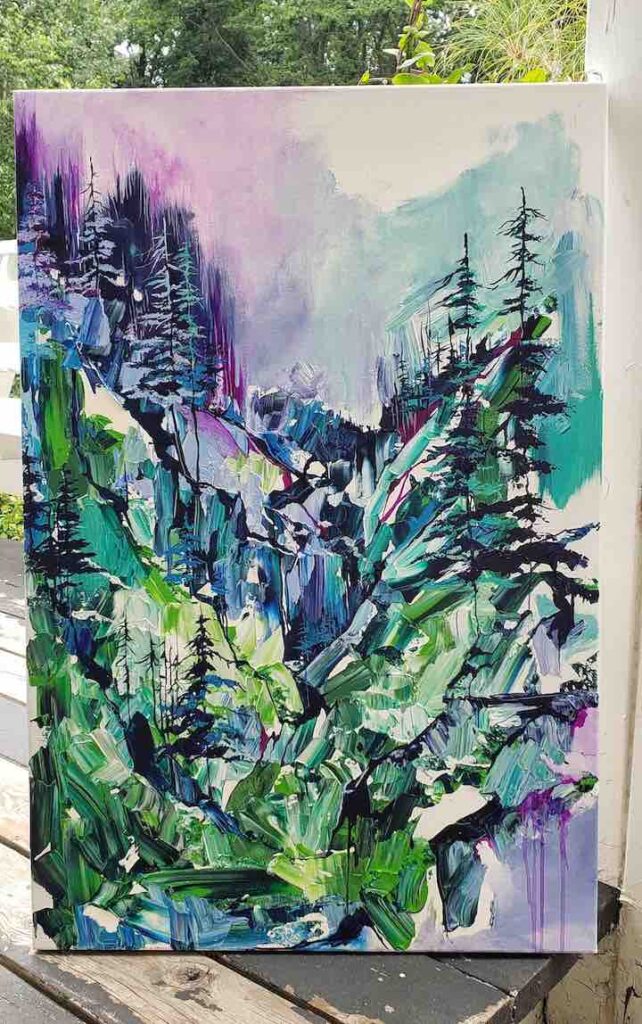 "I start with a mental image from a dream or memory or a physical photo. That morphs into something resembling those ideas," says Olson. "I enjoy leaving a window open for the viewer to have their own connection and have a different interpretation."
Olson was born and raised in Minnesota, growing up near the Twin Cities. She attended the University of Minnesota, graduating with a degree in Painting and Visual Communication.
"I felt a strong connection to the arts from very early in life," she says, adding that her firstartintroduction was performance art, not visual, when she started ballet at age five.
After painting was added as an elective in her high school, she was hooked.
"In tenth grade, I took an art class where we had the opportunity to work with acrylics on canvas, and I haven't stopped painting since," she says. "I felt inspired by what the other students would create and felt included within a diverse and thoughtful atmosphere."
Olson paints consistently in her free time and has participated in many solo and group artexhibitionsin the Twin Cities.
Her creations are primarily done in acrylic, and though in the past she preferred to work only with larger canvases, she has branched out to more portable sizes.
"Birchbark is another surface I've been practicing on lately," she adds.
The time it takes to produce each piece varies, and Olson says there are some large pieces at her home that she continues to edit.
"There's been a shift in brush technique and execution that coincides with normal adaptation to life changes and new sources of inspiration," she says. "I make looser, less intricate paintings with a lot of palette knife use."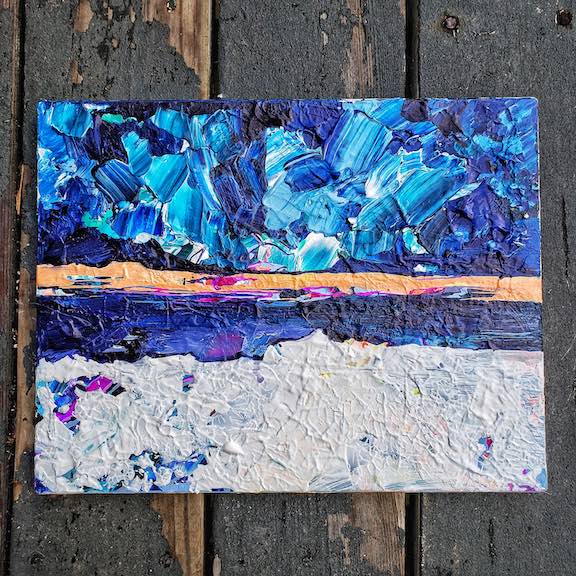 Working from a home studio, Olson says her inspiration for creativity comes from the landscape of Minnesota's North Shore and Lake Superior, cityscapes, plants, and flowers.
"I feel very lucky to have the opportunity to visit there one-to-two times a year," she says of the North Shore. "I take as many photos as my phone can handle. This allows creative fuel and determination to translate those memories for the rest of the year on canvas."
While I am assuredly not alone in the emotional response I have to her artwork, it was fascinating to learn her vision behind designing each piece.
"Each painting is unique, personal, and abstract – no print reproductions," she says. "The viewer may have their own interpretation. I'm drawn to the idea of those two things colliding."
Olson expresses that there isn't a pressure to discover a specific or deep meaning in her work. Viewers will often connect to a painting because it reminds them of a memory or place they love, and other times it's the color palette or simplicity that attracts them.
"Sometimes, clients have preferred to turn the canvas in a different direction than how I had painted it because they see something completely different that calls to them," she says.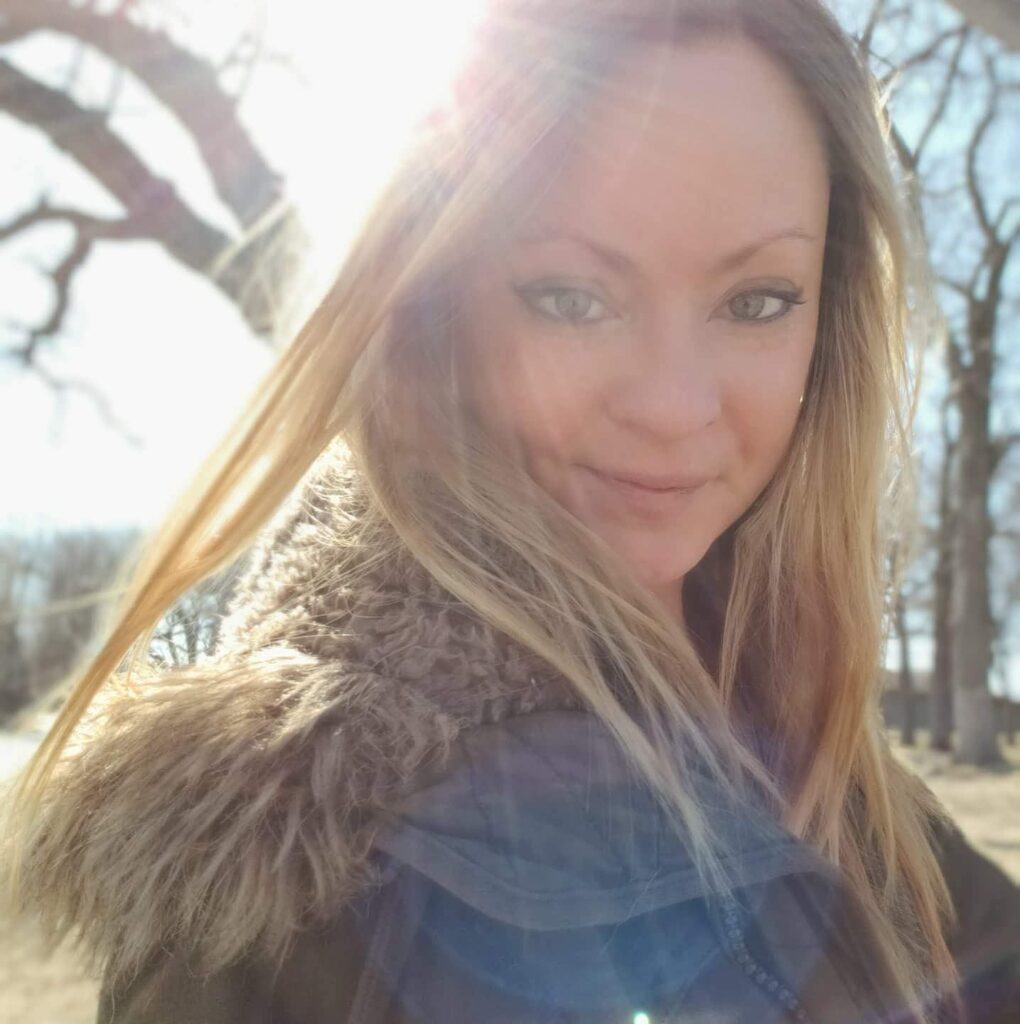 With a deep appreciation for all forms of creative expression, Olson shares advice for aspiring artists she has learned along her journey:
Be prepared for challenges; recognize that they are part of your story, and authentic stories take time to unfold.
Listen and learn as much as possible.
Set out to create something new.
Don't waste energy comparing yourself and your aesthetic to other artists.
Stay driven to find one craft that makes you smile at the end of the day.
While Olson enjoys dabbling in other art forms, from weaving and screen printing to graphic design and more, her media of choice remains acrylic. She draws inspiration from her surroundings and the natural world. Working at a greenhouse has offered her an opportunity to incorporate more plant life into her art.
"Nature is a big part of my life now, and I love it," she says. "All I can hope for is to continue evolving and creating new work that others might enjoy."
It is no wonder art enthusiasts are captivated by Olson's work – the striking colors and spellbinding images are utterly mesmerizing.
Request to follow@maryolsonarton Instagram.
XOXO

Art
culture
History