With October being Breast Cancer Awareness Month, many of us are reminded of how we have been affected by cancer. While some of us have stories of survival, others, like Wayzata designer and stylist Michele Van Beek, have a story of loss. After losing her mother to a rare form of cancer in 2013, Michele knew she needed a way to both grieve and honor her mom, Janet Henrietta. This is how J. Etta Couture was born.
It started in 2014. Michele knew very little about sewing, but she knew how to use a sewing machine, which was enough inspiration to launch a headwear business. She listed thirteen hand-made chemotherapy caps on Etsy as a side gig. Michele wanted to empower women undergoing treatment as her mom had undergone. "When [my mom] started losing her hair she struggled to feel feminine and like herself. She had gorgeous wigs but they were often just too hot, heavy, and itchy. We didn't love any of the caps that were already out there as they didn't fit her personality or mine. As a designer, I realized I could use my talents to creategorgeous, fun, edgy caps that would fit each woman's uniquepersonality while offering the necessary comfort for sensitivity following treatment."
Shortly after J. Etta Couture launched, Michele moved to Los Angeles. She wanted to brush up on her knowledge of sewing and fabrics, and learn more about the fashion industry so she could grow her business. "I took one sewing class when I moved to L.A.… and I had an incredible seamstress sewing for me for a couple of months who taught me how to use a serger for the beautifully finished seams inside each cap. As for fabrics, I had a lot to learn about that."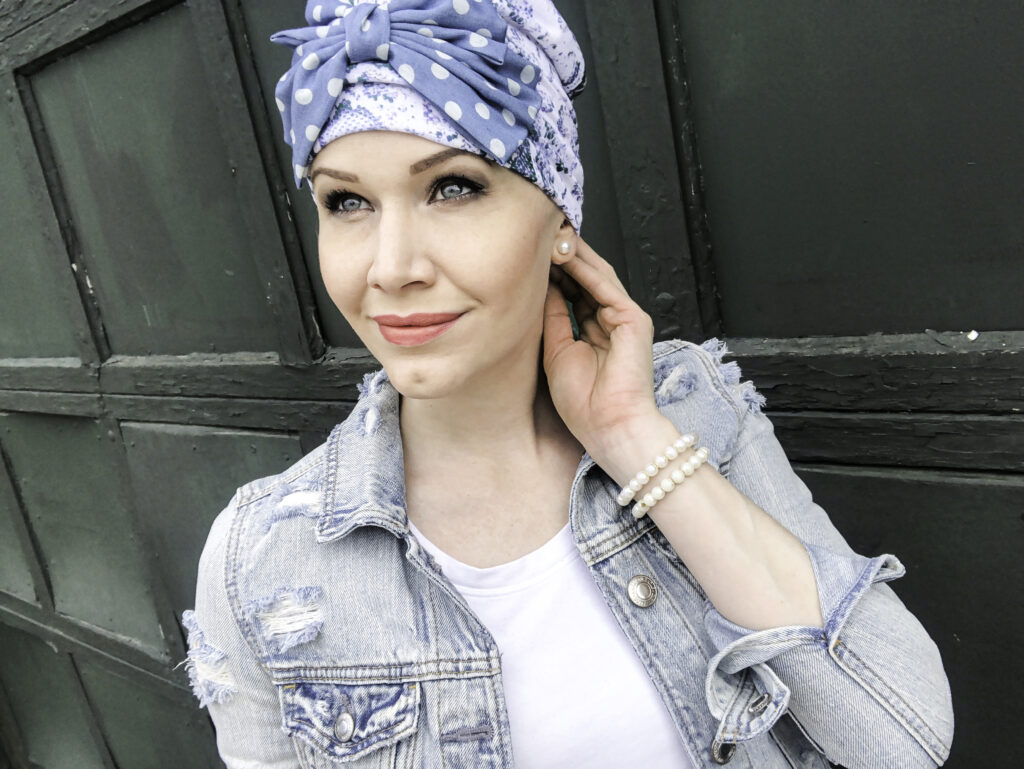 Michele has always been into fashion, and her brand reflects that. She strives to create chemotherapy caps that are both comfortable and stylish. To her, they are not meant to be worn as a cover-up. "My main goal is to empower the women wearing our caps and give them inner confidence… J.Etta caps are meant to be an accessory to who she is that day. One day she may be glam sporting a big polka dot bow while the next day she may be a hiking queen in acamouflagecap, or feeling fierce as a rock-star in a pearl and studs cap."
J. Etta Couture releases new caps every season, offering headwear that reflects current fashion trends. "These are accessories, not cover-ups, meant to make each woman shine like the gem she is in this world."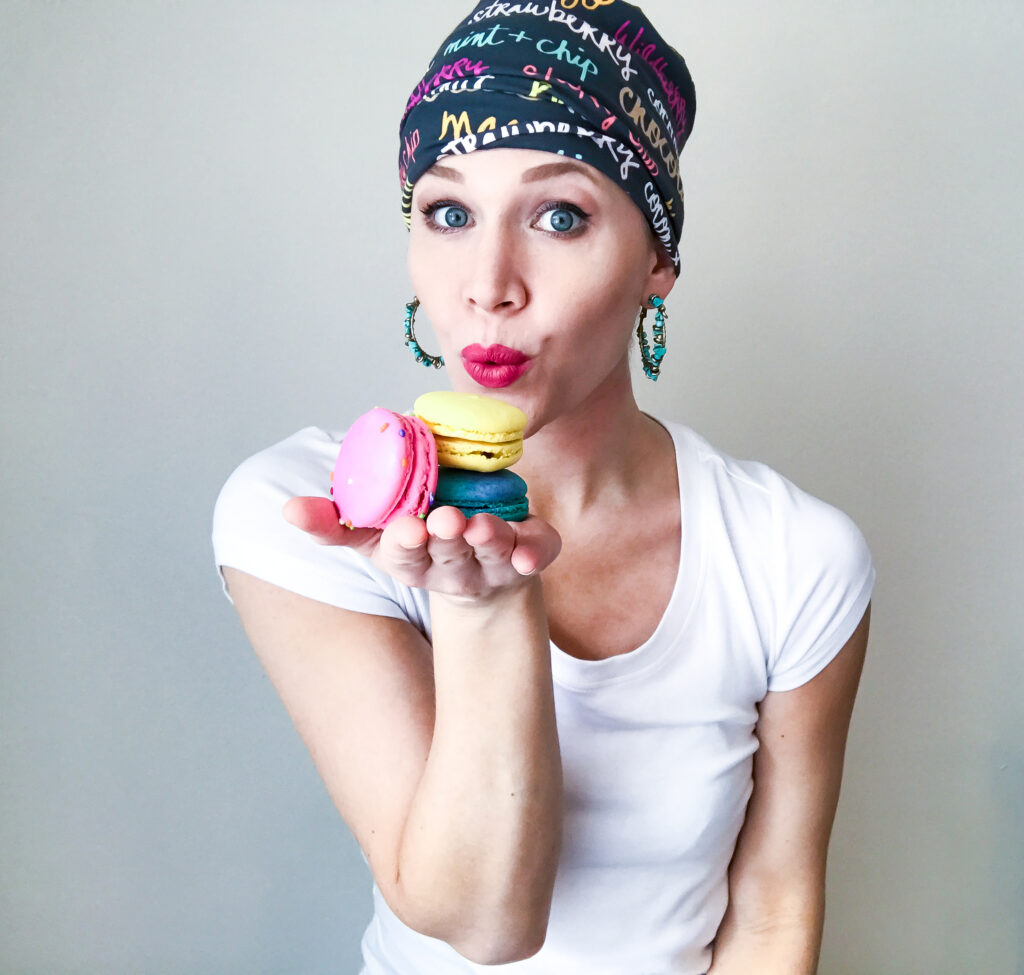 J. Etta Couture also offers headbands, beanies, and masks. "One of the beautiful women who models for us is a breast cancer survivor, and as her hair was growing back she was looking for options to style it. That's how the idea of headbands came about. It's fun because even those not undergoing treatment can buy the headbands or beanies."
Michele never expected J. Etta Couture to grow as big as it has. Expanding her business has become a natural part of the learning experience that creating a business is. "The masks happened when COVID threw the world into a tailspin. Suddenly all of the hospital gift shops and boutiques closed and J.Etta felt it, but we saw so many posts of women still going in for treatment. With their compromised immune systems many were feeling worried and scared; we wanted to get masks into the hands of these women. We started creating masks, and for the first couple of months we used a portion of all the proceeds to send free masks to people going in for treatment."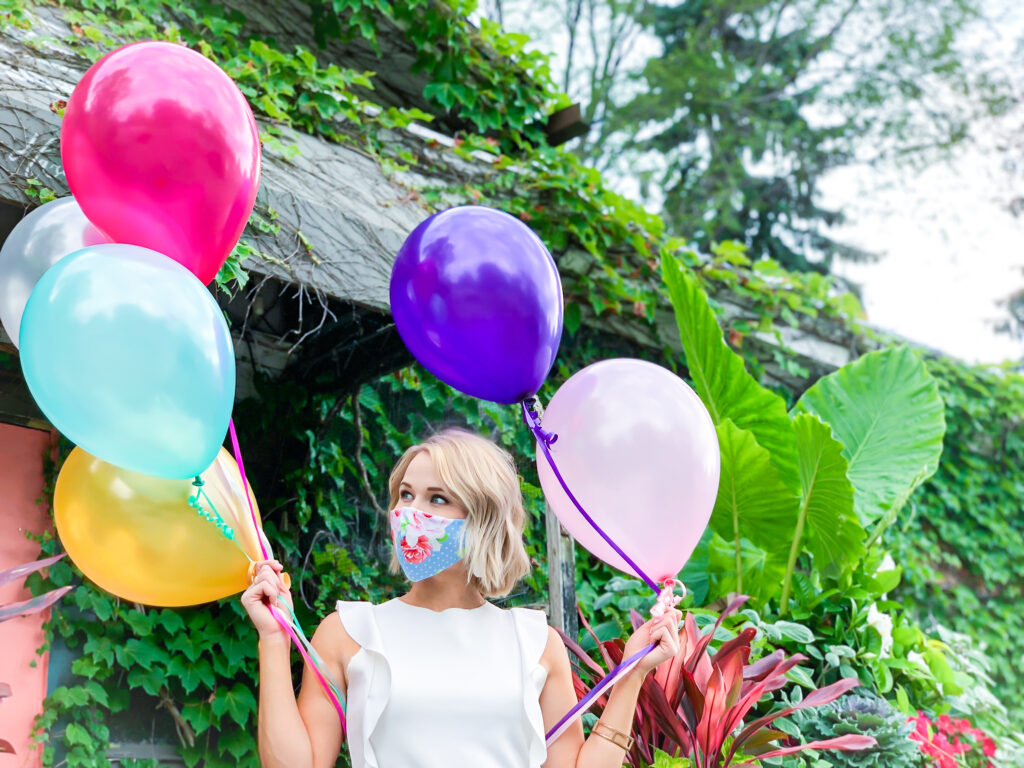 Not only does Michele believe in helping women feel comfortable while undergoing treatment, she also believes in helping them feel confident. And with her social media platform, Michele gets to see first-hand when she accomplishes that.
"We love when women share photos of themselves wearing their J. Etta purchases in their everyday lives. So, with their permission, we post their images so others get that sense of real versus just a model wearing the caps."
Michele typically has women who are cancer survivors or current chemo-patients model J. Etta Couture headwear for her website and Instagram. She also models many of the caps and headbands herself.
"I love using women who have gone or are going through treatment as they give me the most in-depth feedback on the caps and can share with their groups how J. Etta products make them feel."
Mental health is something that needs to be acknowledged while battling an illness, and Michele makes sure to do just that. "I've seen firsthand how exhausting and uncertain that journey is, so we are constantly promoting empowerment, inner healing, and confidence in feeling beautiful."
While her headwear certainly helps women feel beautiful on the outside, it's clear that Michele's true intentions are to help them feel beautiful on the inside. When it comes down to it, what Michele creates is an opportunity for women to feel like themselves again.
I've seen firsthand how exhausting and uncertain that journey is, so we are constantly promoting empowerment, inner healing, and confidence in feeling beautiful.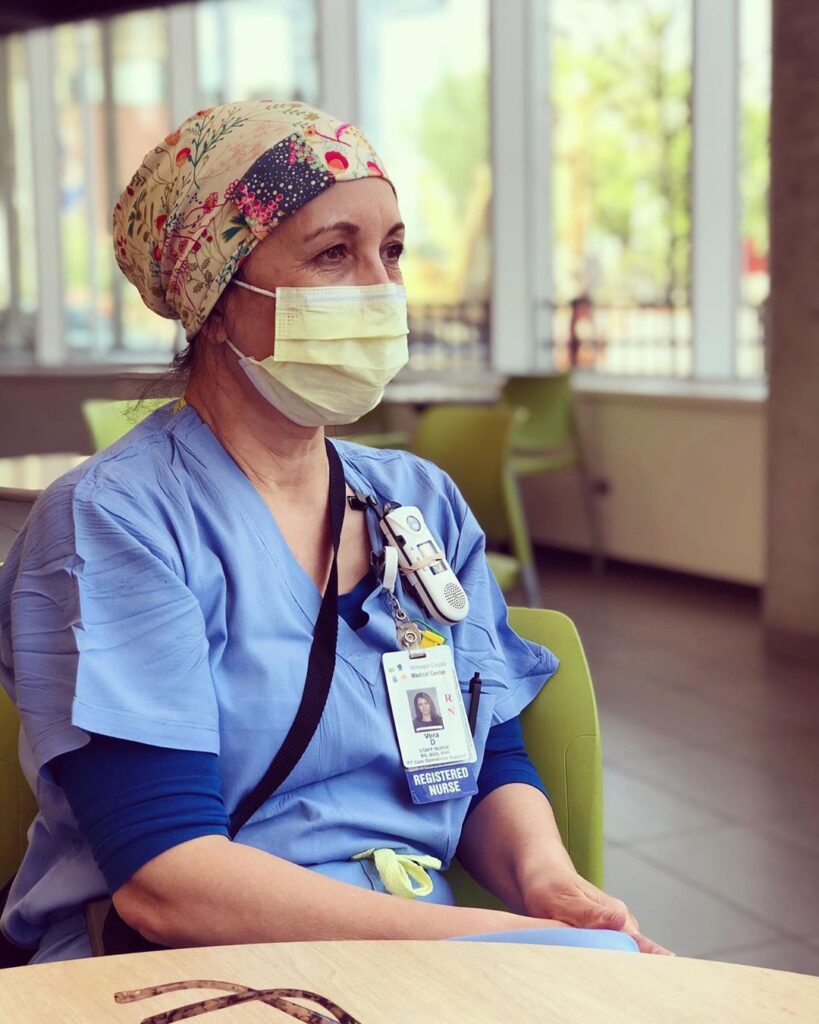 With an established business and a strong sense of what her goals are, Michele plans to expand. Currently, J. Etta Couture designs headwear specifically for women, but within the next couple of years they will carry a men's line and a children's line. The masks are designed for both men and women.
You can find J. Etta Couture headwear and masks in various boutiques and hospital gift shops around the Twin Cities. You can also find their products via their website https://www.jettacouture.com/ or their Instagram @j_ettacouture_chemostyle. In honor of Breast Cancer Awareness month, they will be running a sale on Breast Cancer-related chemo-caps during the month of October.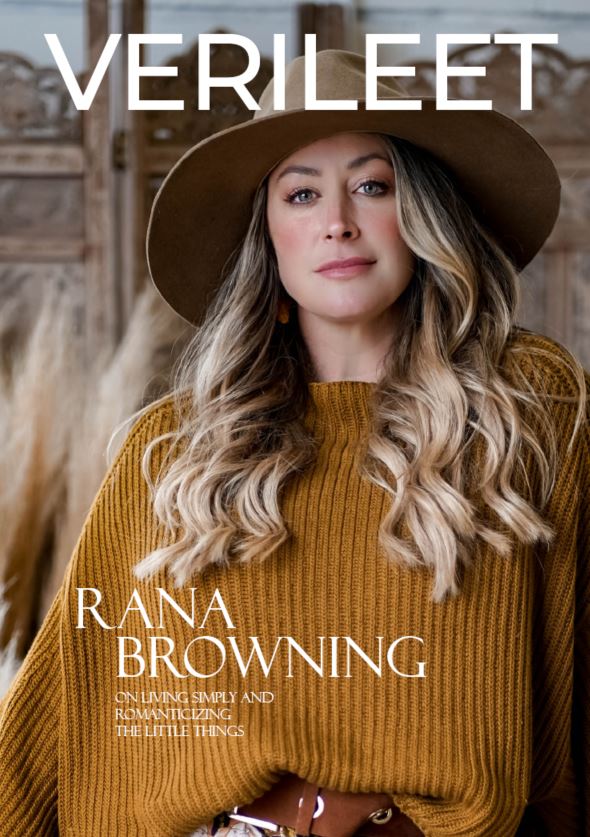 XOXO

beauty
Fashion
Minneapolis
Minnesota
Twin cities
Wellness